Mercy University Hospital
Energy Efficient Hospitals
The Mercy University Hospital is a general hospital located in Cork. The hospital building had poor, inefficient lighting.
In 2018, Tipperary Energy Agency carried out an energy audit to determine what energy upgrade works could be carried out. An application was made to the Sustainable Energy Authority of Ireland's (SEAI) Better Energy Communities (BEC) scheme to fund 30% of the costs of the works, which was granted. The Mercy University Hospital completed all the works recommended by Tipperary Energy Agency.
LED Lighting
A detailed lighting design was carried out to ensure that the most appropriate light fitting was selected and positioned in the correct place to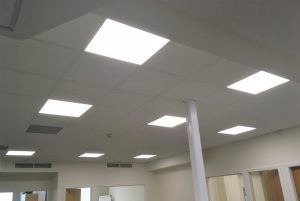 ensure that all lighting regulations were met. Emergency light locations were also included in the design to ensure compliance. Over 300 fluorescent lights were replaced with LED lights. The new measures will result in a saving of over 50,000 kWh per yr. 27 building services pumps were also upgraded from single speed pumps to variable speed pumps which will achieve a savings of approximately 86,000 kWh per year.
As a result of these upgrades, the Mercy University Hospital have reduced their carbon dioxide emissions by 50 tonnes per year.