St Christopher's Services
Energy Audit
St. Christopher's Services in Longford provides a comprehensive, efficient and innovative service to people with intellectual difficulties. Their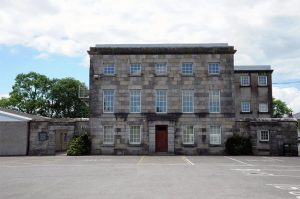 heating and lighting systems were poor and in need of an upgrade.
Derek Scanlon, CEO explains how the project came about, "The project came about when we engaged with the agency regarding potential funding and supports. They visited onsite and carried out an energy review. Following the review there was a necessity to upgrade lights in two locations."
Tipperary Energy Agency carried out a high-level energy analysis at St Christopher's Services as part of the SEAI Partner Support Mentoring programme to identify the large energy users on site. The decision was made to apply to the Sustainable Energy Authority of Ireland's (SEAI) Better Energy Communities (BEC) scheme to fund 50% of the costs of the works, which was granted. Mr Scanlon explains the benefits of being able to avail of such funding, he said, "Our organisation would not have been able to carry out the project if the supports and funding we received from the SEAI wasn't in place. As a result, the savings on energy costs from this project can be reinvested in other areas and projects."
LED Lighting
St Christopher's Services completed a number of measures which were recommended by Tipperary Energy Agency. In total 141 LED lights were installed as well as a 10kW air-air heat pump system and a 14kW air-air heat pump system. A heat recovery ventilation system was also installed instead of relying on natural ventilation and reducing infiltration. The energy efficient upgrades will result in energy savings of 37,301kWh per year and €5,221 per year. Staff at St. Christopher's notice a huge difference since the upgrades were carried out said Mr Scanlon, "Staff notice the lighting is much better and easier controlled at the Sylvia Dawson Hall location. Before the project, all sets of lights in the hall had to be switched on to brighten the room. After the project was carried out, less lights are turned on to get the same effect."
All of the upgrades were designed by Tipperary Energy Agency, then procured, ensuring procurement guidelines were met, to ensure that St. Christopher's got value for money.
Tipperary Energy Agency managed the contractors during the upgrade works, then signed off on them when they were completed to their and the client's satisfaction.
"I would highly recommend the process and support provided by the consultants from Tipperary Energy Agency", said Mr Scanlon