St Oliver Plunkett National School
Energy Efficient School
St Oliver Plunkett National School, Clonmel, Co Tipperary underwent a major energy-saving makeover managed by Tipperary Energy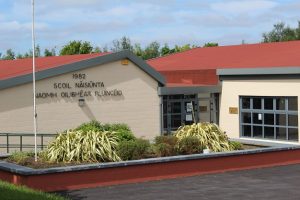 Agency.  The school received 50% funding through Sustainable Energy Authority of Ireland (SEAI) Better EnergyCommunities Scheme.
The work came about thanks to a chance conversation at a meeting of school principals, explains Paul Murphy, principal of St Oliver Plunkett. 'Someone said 'isn't there something about a grant for windows'. That prompted me to go to a very informative information evening by Tipperary Energy Agency,' he says. There he heard about a 50% grant for remedial works.
'To me it was a no-brainer. I mean 50%. Wow!'
His board of management agreed and in February 2016 Tipperary Energy Agency was taken on to carry out an energy audit of the 24-classroom school. The agency identified potential areas for energy saving, designed an upgraded system and successfully applied for the Sustainable Energy Authority of Ireland's 50% Better Energy Community grant.
Energy Efficient Upgrades
Tipperary Energy Agency managed the whole process, as well as the works on site, which meant Murphy did not have to do any of the chasing of contractors. 'They were on side and on site,' he says. The upgrading works carried out brought the building up to current building and technical standards for educational facilities. The works included:
insulation of all attic spaces and cavity walls
upgrading of all external windows, which were single glazed, to triple glazed low energy units
replacement of external doors with air-tight energy efficient units
upgrading of heating controls for the 250 kW condensing gas boiler that was installed in 2012
upgrading to a low-energy Smart lighting system incorporating daylight sensing and occupancy detection.'
There was a willingness to accept tenders from local contractors which was much appreciated by the board of management,' says Murphy. He greatly appreciated the technical support and advice from Tipperary Energy Agency. 'I don't know the difference between thermal band 1, 2 or 3 and I don't want to know.' He also says all the people working on site were perfect in terms of meeting the particular issues relevant to a school such as child protection and health and safety. The project is a major success, he says. 'Overall it's fantastic.' He is not yet seeing the financial savings, not because there aren't any, but because they have not done the final study of before and after costs. In terms of comfort the school building is completely different: 'It is extremely comfortable.'
'It's early October and we've only had the heating on for half an hour in the mornings. This is impressive given that the building has been empty for two months over the summer.' The children have definitely noticed a difference, he says, and the staff, 'they love it'.
Initially it took some time to get used to the newly insulated, energy-efficient building. For example the school realised that setting the heating at 21 degrees Celcius was too hot. 'We've it set now at 18.5 and 19 degrees and with the body heat it goes up to 21 degrees.' While Mr. Murphy is not hugely into technology he enjoys being able to control the heating from his phone, as does the caretaker. 'We do not even have to go to the boiler house to turn on the heating.' Each of the new triple glazed windows has a thermal vent and these combined with already existing vents ensure the school building is well ventilated. 'There are no damp patches or condensation. It is not stuffy at all,' says Murphy.
Mr. Murphy's did point out the tight timeframe. From a school's perspective the work to only take place in July and August was challenging, he says. It was made possible thanks to Tipperary Energy Agency's support and management. 'Admittedly you have to have 100% of the cost upfront – and this was a quarter of a million for us – but if you ask did we get €125,000 worth of value I would say yes.'
He praises the fact that the grant process includes an assessment by an independent auditor coming on site and that things were changed based on their recommendations. 'The school looks like a new-build yet it was built in 1982,' he says. 'I think we have future proofed our building. We are certainly in the 21st century now.'
If you're school would like to learn more about how we can help you, get in touch here.