Lahinch Leisure Centre
NZEB Leisure Centre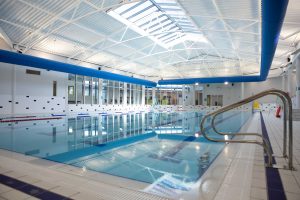 The Lahinch Leisure Centre retrofit journey began in September 2018 when the agency's building services team completed an energy audit to understand how much energy the building was using and pinpoint necessary works to upgrade the facility. 
At this stage, the Leisure Centre had an E BER (Building Energy Rating). The building, part of which was constructed in 1960, had inefficient lighting and was poorly insulated with single glazed windows. Today, Lahinch Leisure Centre has a BER A3 Energy Rating and has NZEB (Near Zero Energy Building) status.  
Eoin Conlon, Center Manager explained, "The leisure centre was extremely difficult to heat. Customers complained that all pools and the changing rooms were cold. It was uncomfortable for customers to change and swim in that environment. The business itself was unable to sustain the cost of trying to heat the facility, this being primarily due to the insulation, the AHU's incompatibility and the roof displaying multiple holes for the heat to escape. Essentially the company had massive costs to heat the building only for it to be losing heat through the roof of the building. " 
The retrofit was grant aided by the SEAI Better Energy Communities scheme. The upgrade will result in a 56% decrease in energy costs and a 55% decrease in CO2 emissions.  
Our Building Services Team were the technical engineers on the project and designed all of the energy efficient upgrades including the heat pump system, biomass boiler system, lighting and PV. The upgrade includes the following works: 
Ground Source Heat Pump
A new GSHP cascade system was designed and installed to serve as the primary heating system for the main 25m Pool, the kids pool and local space heating via fan coil units located throughout.
Biomass Boiler Cascade
300kW of Biomass Boiler to serve the 3 AHU's throughout the facility.

Air handling Units

 
3 new AHU's designed and selected for a swimming pool environment. 
Smart LED Lighting Upgrade

 
Smart LED lighting through, complete with occupancy detection, daylight sensing and multiple scene selections. 
137kWp Solar PV Array

 
When production exceeds consumption, the system shall store excess energy in 30kWh Battery system 
Insulation
The cavity and external walls were insulated.  
Roof and ground floor insulation all upgraded.  
Shower Heat Recovery System
6 Recoup shower heat recovery units were installed at 42% heat recovery efficiency 
Windows and Doors
All windows and doors were ungraded to double glazing and high thermal efficiency units.  
Speaking about the upgrades, Eoin said,
The new energy system that we have in place now thanks to Tipperary Energy Agency and partners allows for full transparency on our facility when it comes to maintaining and evaluating our energy use.  While the systems themselves, such as the geothermal heat pumps, solar panels and wood pellet boilers have state of the art energy efficiency engineering behind them we still must allow for an ongoing process evaluation for their use to maximise their full potential. I intend to work closely with Tipperary Energy Agency to make sure that this process happens. Tipperary Energy Agency have been nothing but a pleasure to work with on this inspiring and well needed project. It is the local communities that will benefit from this and the customers that walk through the doors of our leisure Centre that can be rest assured we are doing our very best to provide a gold standard energy efficient leisure centre.
If you would like to learn more about how we can help you, get in touch here.