Nenagh Leisure Centre
Energy Efficient Leisure Centre
Nenagh Leisure Centre has been transformed into a Near Zero Energy Building (NZEB) thanks to a series of upgrades that began in 2009.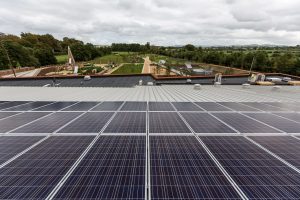 An NZEB uses very little energy, and of the energy it does use a significant portion is supplied by onsite or nearby renewable sources.
Prior to the upgrades, the leisure centre (which was built in the 1980s as a swimming pool with changing rooms) had an old-fashioned lighting system and single-glazed doors and windows. It was poorly insulated and costly to run.
Now, with the building extended to include a gym, 95% of its heat is supplied by a biomass boiler and 10% of its electricity needs are met by 180 rooftop photovoltaic (PV) panels, saving Tipperary County Council an average of €40,00 per annum.
This transformation was made possible due to investment by the Council of some €450,000 over eight years with grant aid from the Department of Tourism, Transport and Sport, the Sustainable Energy Authority of Ireland (SEAI) and the EU, and advice and project management from Tipperary Energy Agency.
Energy Efficient Lighting
The first step, in what became a journey of transformation, was replacement of the lights and lighting controls in the old changing rooms and corridors. 'The lights were on even if there was plenty of daylight or no one was in there,' explains Paul Kenny, chief executive officer of Tipperary Energy Agency.
The lighting upgrade cost less than €3000, had a 1.8 year payback and was grant-aided by a forerunner of the SEAI's Better Energy Community (BEC) scheme.
Energy Efficient Heating System
Next came replacement of the centre's 22-year-old oil boiler with a high-efficiency boiler. 'We always had in mind to upgrade to a wood chip boiler, which came afterwards, but it's standard to have a standby oil boiler for periods of maintenance, breakdowns or peak loading,' says Kenny.
In 2011 a 400kW KOB Pyrot biomass boiler and storage facility was installed and commissioned. It cost €220,000 ex VAT of which 35% was grant-aided as part of a North Tipperary sustainable energy project.
A renewable energy company was contracted for the boilers' fuel supply (both wood chip and oil) and maintenance.
'The first year after we installed the wood chip boiler we saved €50,000,' says Tom Mackey, manager of the centre. 'We also had enough heat to run a new Jacuzzi at no extra cost.'
Also in 2011 the Depart of Tourism, Transport and Sport offered 85% grant-aid for energy-related investments in public swimming pools. The leisure centre, with support once more from Tipperary Energy Agency, successfully applied for grant aid, this time for renovations to the building fabric costing €120,000 ex VAT.
The roof was redone, this time with PIR insulation; the existing cavity walls were pump filled with bonded bead insulation; the doors and windows were replaced with lower U-value items; and a highly insulated pool cover was installed.
'The payback on the new pool cover was roughly 18 months. It allows you to ramp down air circulation over the pool at night,' says Mackey.
In 2012 the centre's Air Handling Unit (which takes out warm moist air and replaces it with warm, dry air) was upgraded to run from the wood chip boiler. It was previously powered by liquid petroleum gas.
A new control system was also installed and all outside pipework was insulated. This work totalled €32,000 ex VAT of which 60% was covered by a SEAI grant scheme at the time.
In 2013 the County Council extended the leisure centre as part of a major investment including the creation of a town park and playground. The agency were involved in reviewing the design of the low energy extension.
A year later 45kW of PV panels were installed on the roof of the swimming pool hall as part of a Tipperary-wide project to generate solar electricity on the county's public buildings.
The panels cost €48,000 ex Vat, of which 50% was grant-aided by SEAI, and produce approximately 37,000 kWh of electricity per annum.
In 2015 the lighting in the main pool hall was upgraded to a LED system costing €22,000 ex VAT.
While the total investment since 2009 is €450,000 much of the works would have been needed anyway, says Kenny.
'The pool commenced with end of life equipment dating from the early 1990's and now has best in class equipment, with a brand new roof, very low CO2 emissions and it is cheap to run.'
Mackey, who has worked at the centre since 2004, says he would 'absolutely' recommend other leisure centres upgrade in a similar way to Nenagh.
'If you can afford to, it really makes economic sense because you'll make the savings within the payback period and after that you are winning altogether.'